Download
Summary
This is another beta version of Rescatux. The last Rescatux beta was released on January 2020. That's about one month ago.
This new version has many improvements. AFD Scanning technology has been improved with the United States of Spain gimmick. Rescapp now has proper logos, desktop icons and a window icon. Non English translations were removed from internal documentation. Many plugin documentations have been update to match 2019 gui. Finally the most important improvement is that Rescapp help is shown right at the Rescapp startup.
Finally I want to thank cjg67 for his work on improving Rescapp documentation grammar. And I also want to thank eris23 from linuxtracker community who has uploaded many times the Rescatux isos to the torrent site.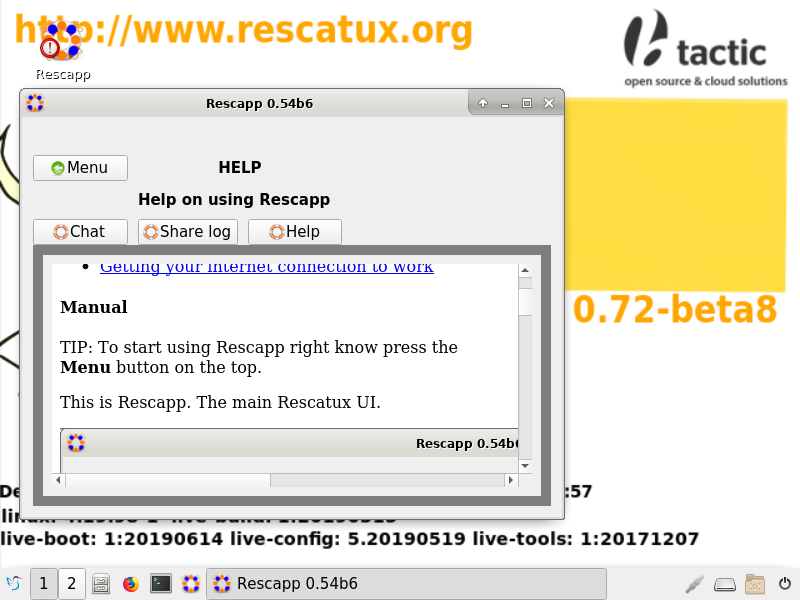 What's new on Rescatux
Make sure to use new Rescapp icon
What's new on Rescapp
Added PUBLISH instructions.
Removed non English translations from internal documentation.
winmbr option is now stable.
Local documentation build process has been improved to be based on a template.
Add experimental logo to Rescapp about page.
Added new Rescapp desktop icons and a window icon.
AFD Scanning technology has been improved with new United States of Spain gimmick.
Show Rescapp help right at the Rescapp startup.
Many plugins documentations have been updated to match 2019 gui
Known bugs
Documentation is lacking on many of the options.
Grub menu does not have an auto detect boot entry