Super GRUB2 Disk helps you to boot into most any Operating System (OS) even if you cannot boot into it by normal means.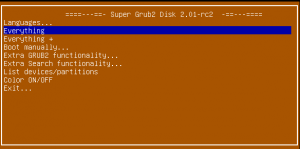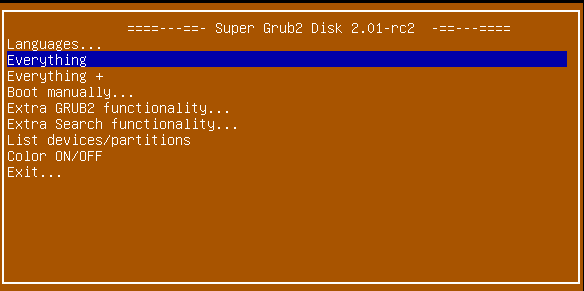 Tour
Here there is a little video tour in order to discover most of Super Grub2 Disk options. The rest of the options you will have to discover them by yourself.
Features
Change the language UI
Translated into several languages

Spanish / Español
German / Deutsch
French / Français
Italian / Italiano
Malay / Bahasa Melayu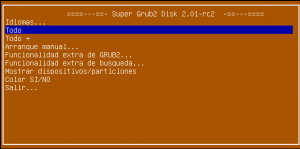 Everything option to detect most Operating Systems


Everything plus option to detect most Operating Systems also in special devices or filesystems
Boot manually
Extra GRUB2 functionality

Enable GRUB2's LVM support
Enable GRUB2's RAID support
Enable GRUB2's PATA support (to work around BIOS bugs/limitation)
Mount encrypted volumes (LUKS and geli)
Enable serial terminal

Extra Search functionality

Search in floppy ON/OFF
Search in CDROM ON/OFF

List Devices / Partitions
Color ON /OFF
Exit

Halt the computer
Reboot the computer
Supported Operating Systems
Windows

Windows Vista/7/8/8.1
Windows NT/2000/XP
Windows 98/ME
MS-DOS
FreeDOS

GNU/Linux

Direct Kernel with autodetected initrd

Super Grub2 Disk – Detect any Operating System – Linux kernels detected

vmlinuz-*
linux-*
kernel-genkernel-*

Debian / Ubuntu / Mint
Mageia
Fedora / CentOS / Red Hat Enterprise Linux (RHEL)
openSUSE / SuSE Linux Enterpsise Server (SLES)
Arch
Any many, many, more.
FreeBSD

FreeBSD (single)
FreeBSD (verbose)
FreeBSD (no ACPI)
FreeBSD (safe mode)
FreeBSD (Default boot loader)

EFI files
Mac OS X/Darwin 32bit or 64bit
Support for different hardware platforms
Most any PC thanks to hybrid version (i386, x86_64, x86_64-efi) (ISO)
EFI x86_64 standalone version (EFI)
Additional Floppy, CD and USB in one download (ISO)

coreboot
i386-efi
i386-pc
ieee1275
x86_64-efi

Additional standalone versions

coreboot (IMG)
i386-efi (EFI)
ieee1275 (IMG)
Supported Media
Compact Disk – Read Only Memory (CD-ROM)
Universal Serial Bus (USB) devices
Floppy (1.98s1 version only)
Other documentation