Download
Summary
This is another beta version of Rescatux. The last Rescatux beta was released on May 2019. That's about five months ago.
This new version features two important fixes: Now Grub recovery in tmpfs enabled distributions such as Ubuntu will work again. Some uefi systems with secure boot disabled that happened to crashed Rescapp no longer crash it.
Additionally Rescapp menu has been reworked. Finally Rescatux live cd uefi boot menu and bios boot menu have been reworked.
There's an ongoing joke on the Internet on fixing someone else writing something wrong on the Internet. Hopefully our new background is ugly enough for someone to reach us on 2019 Background should be improved issue and correct us.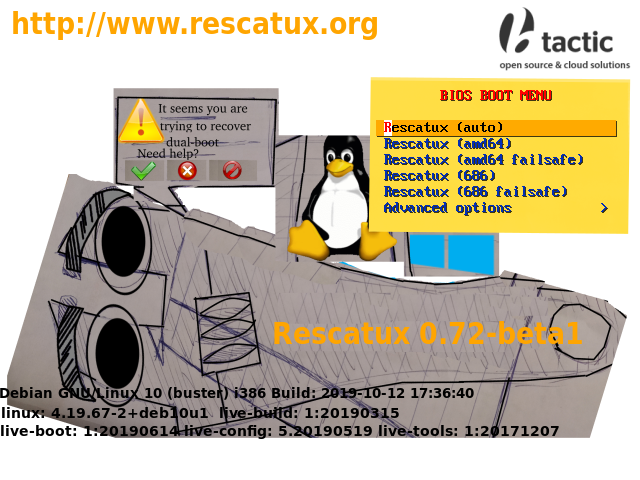 What's new on Rescatux
Added xterm package so that external programs can be opened from within rescapp
Move testdisk package dependency from Rescapp to Rescatux
New background and associated boot menues improved
Based on Debian Buster which now it's officially stable
What's new on Rescapp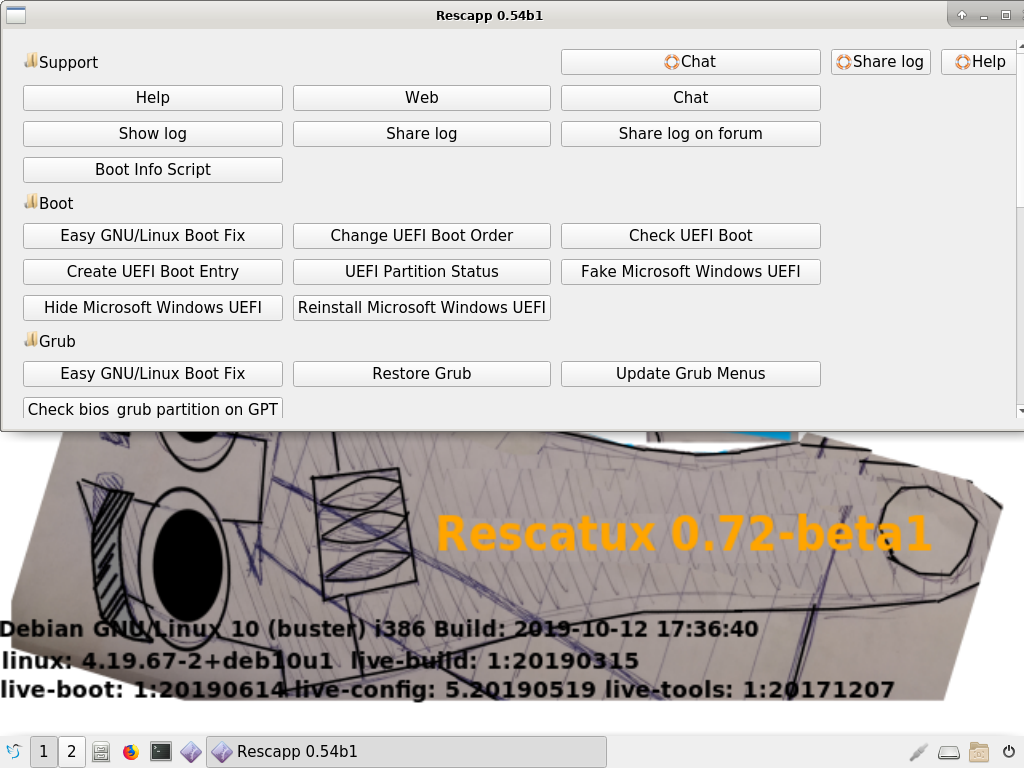 Added Xterm self test
There's no longer a back button. Improved menu.
Fixed: Non secure boot UEFI mode make rescapp to crash before its menu.
Do not mount neither the root partition nor the tmp partition when performing chroot grub operations.
That reenables being able to fix Ubuntu grub properly.
Rescapp was ported from python2 to python3
Improved compatibility with Fedora (Big thanks to cjg67)
Removed gddrescue and myrescue dependencies
Move testdisk package dependency from Rescapp to Rescatux
Move gparted package dependency from Rescapp to Rescatux
Add missing filesystem dependencies (debian package)
INSTALL: Added optional debian package runtime requirements
Known bugs
Gparted package is not installed. So trying to start it from the expert tools option will fail.