Super Grub2 Disk 2.04s1 is here.
Super GRUB2 Disk is a live cd that helps you to boot into most any Operating System (OS) even if you cannot boot into it by normal means.
A new stable release
This new release features new upstream grub 2.04. Some of the grub 2.04 features which might be or might not be reflected on the SG2D UI are:
Support for multiple early initrd images
Support for the F2FS file-system
A verifier framework
RISC-V support
UEFI Secure Boot shim support
Btrfs Zstd improvements
Btrfs RAID5/RAID6 support
Xen PVH support
UEFI TPM 1.2/2.0 support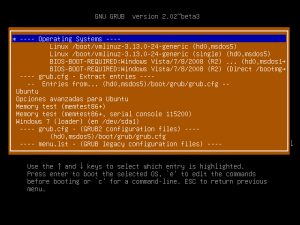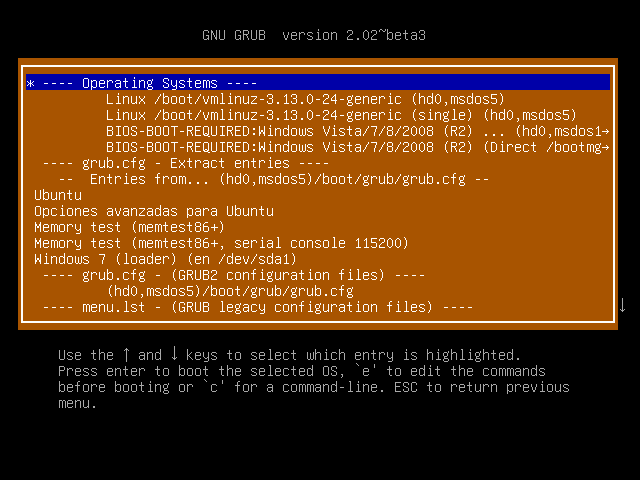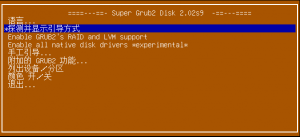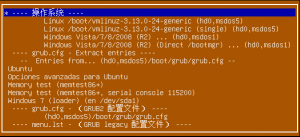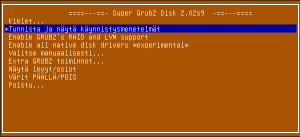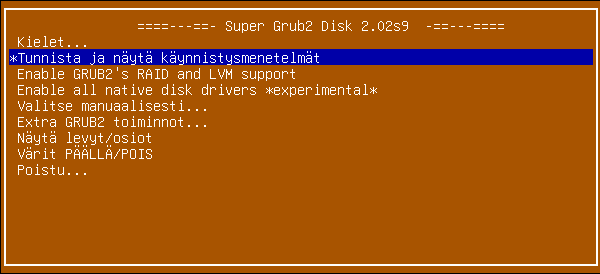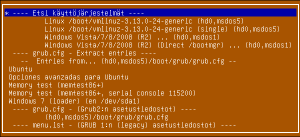 We are going to see which are the complete Super Grub2 Disk features with a demo video, where you can download it, the thank you – hall of fame and some thoughts about the Super Grub2 Disk development.
Please do not forget to read our howtos so that you can have step by step guides (how to make a cdrom or an usb, how to boot from it, etc) on how to use Super Grub2 Disk and, if needed, Rescatux.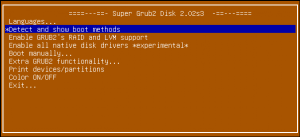 Tour
Here there is a little video tour in order to discover most of Super Grub2 Disk options. The rest of the options you will have to discover them by yourself.
Features
Most of the features here will let you boot into your Operating Systems. The rest of the options will improve the Super Grub2 Disk operating systems autodetecting (enable RAID, LVM, etc.) or will deal with minor aspects of the user interface (Colours, language, etc.).
Change the language UI
Translated into several languages

Spanish / Español
German / Deutsch
French / Français
Italian / Italiano
Malay / Bahasa Melayu
Russian
Finnish / Suomi
Chinese
Detect and show boot methods option to detect most Operating Systems


Super Grub2 Disk 2.01 beta 3 – Everything menu making use of grub.cfg extract entries option functionality
Enable all native disk drivers *experimental* to detect most Operating Systems also in special devices or filesystems
Boot manually

Operating Systems
grub.cfg – (GRUB2 configuration files)
menu.lst – (GRUB legacy configuration files)
core.img – (GRUB2 installation (even if mbr is overwritten))
Disks and Partitions (Chainload)
Bootable ISOs (in /boot-isos or /boot/boot-isos

Extra GRUB2 functionality

Enable GRUB2's LVM support
Enable GRUB2's RAID support
Enable GRUB2's PATA support (to work around BIOS bugs/limitation)
Mount encrypted volumes (LUKS and geli)
Enable serial terminal

Extra Search functionality

Search in floppy ON/OFF
Search in CDROM ON/OFF

List Devices / Partitions
Color ON /OFF
Exit

Halt the computer
Reboot the computer
Supported Operating Systems
Excluding too custom kernels from university students Super Grub2 Disk can autodetect and boot most every Operating System. Some examples are written here so that Google bots can see it and also to make more confident the final user who searchs his own special (according to him) Operating System.
Windows

Windows 10
Windows Vista/7/8/8.1
Windows NT/2000/XP
Windows 98/ME
MS-DOS
FreeDOS

GNU/Linux

Direct Kernel with autodetected initrd

Super Grub2 Disk – Detect any Operating System – Linux kernels detected

vmlinuz-*
linux-*
kernel-genkernel-*

Debian / Ubuntu / Mint
Mageia
Fedora / CentOS / Red Hat Enterprise Linux (RHEL)
openSUSE / SuSE Linux Enterpsise Server (SLES)
Arch
Any many, many, more.

FreeBSD

FreeBSD (single)
FreeBSD (verbose)
FreeBSD (no ACPI)
FreeBSD (safe mode)
FreeBSD (Default boot loader)

EFI files
Mac OS X/Darwin 32bit or 64bit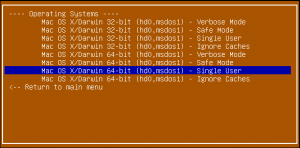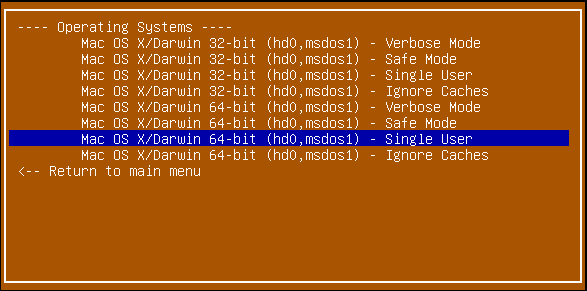 Support for different hardware platforms
Before this release we only had the hybrid version aimed at regular pcs. Now with the upcoming new EFI based machines you have the EFI standalone versions among others. What we don't support is booting when secure boot is enabled.
Most any PC thanks to hybrid version (i386, x86_64, i386-efi, x86_64-efi) (ISO)
EFI x86_64 standalone version (EFI)
EFI i386 standalone version (EFI)
Additional Floppy, CD and USB in one download (ISO)

i386-pc
i386-efi
x86_64-efi
Known bugs
Non English translations are not completed
Supported Media
Compact Disk – Read Only Memory (CD-ROM) / DVD
Universal Serial Bus (USB) devices
Floppy (1.98s1 version only)
Downloads
---
---
---
---
---
---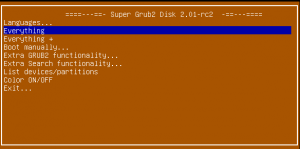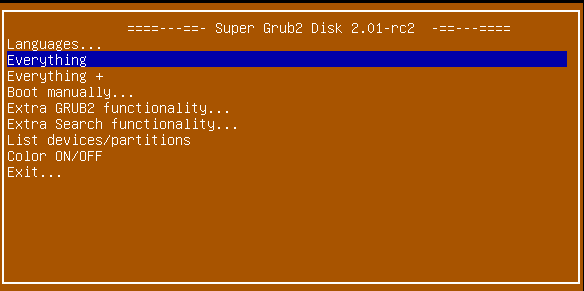 NOTE: The hybrid version should work in most any machine you might have. Please download that version.
| | |
| --- | --- |
| Non scientific machine names | Description |
| Oldie x86 | These are very old machines that only have 32-bit processors. Their supported architecture for boot is i386. |
| Oldie 64bit | These are old machines, usually from 2010 year or before. They have 64-bit processors. Their supported architectures for boot are: i386 and x86_64. |
| UEFI 64bit | These are new machines, usually from 2011 year or after. They have 64-bit processors. Their supported architecture for boot is: x86_64-efi. If you enable CSM (also known as legacy boot) support on them they also support i386 and x86_64. |
| UEFI 32bit | These are new machines, usually from 2011 year or after. They are very rare. They have either 64-bit processors or 32-bit processors but somehow boot initially in 32-bit mode. Their supported architecture for boot is: i386-efi. I highly doubt you can enable CSM support on these machines. |
NOTE: The hybrid version should work in most any machine you might have. Please download that version.
---
About other downloads
. These other downloads might be built in the future if anyone complains and helps enough on our mailing list: coreboot, ieee1275, standalone coreboot and standalone ieee1275.
Hashes
In order to check the former downloads you can either check the
download directory page
for this release or you can check checksums right here:
MD5SUMS

3cd636aaa5418b7bfc81cde36098e153  super_grub2_disk_2.04s1_source_code.tar.gz
7547168a534cca7cea819349f886e492  super_grub2_disk_hybrid_2.04s1.iso
dc15f00af0ecb13859ae88e69edfcfa8  super_grub2_disk_i386_efi_2.04s1.iso
d5963058f2cb8693ba6a17c9d913bdae  super_grub2_disk_i386_pc_2.04s1.iso
b3a9778fd588334ed1ce0b4ae4f1e99c  super_grub2_disk_standalone_i386_efi_2.04s1.EFI
e8f7873d16849c7257b3ea2da04f152f  super_grub2_disk_standalone_x86_64_efi_2.04s1.EFI
ecf00e7a4501bbae14452831f1f0cc6f  super_grub2_disk_x86_64_efi_2.04s1.iso
7e69801ecc6b73ccd2b563e58cf6e84d  super_grub2_disk_2.04s1.zip

SHA1SUMS

95692272ae7c290154bb3a774080d826aec45df3  super_grub2_disk_2.04s1_source_code.tar.gz
a7880034e1c3867d1b696b9ffb55451407f04175  super_grub2_disk_hybrid_2.04s1.iso
afc9a4a1d8945df963c46a6fa98c61d50f86dbfc  super_grub2_disk_i386_efi_2.04s1.iso
d4cba6c9778480283ce54df1c3e5aabbe3caff61  super_grub2_disk_i386_pc_2.04s1.iso
c9d5c898c080fa93430617dfcadf864cdde4e3b7  super_grub2_disk_standalone_i386_efi_2.04s1.EFI
5ffe3e2cedf90ffa9f75937d1897905bff6ce369  super_grub2_disk_standalone_x86_64_efi_2.04s1.EFI
e3678f1161d2a3fd188a4275d298c7e03411bc4d  super_grub2_disk_x86_64_efi_2.04s1.iso
bdacf9de3af569188f32ae35cad65bf9dd9a163a  super_grub2_disk_2.04s1.zip

SHA256SUMS

d471b8bc16ecf70cf715506463e07afe9e4cd3b7127f7d1ce6e038f1dd2e4d59  super_grub2_disk_2.04s1_source_code.tar.gz
a72eddad240c072105847a404e2af0541ee39d61919eb712242b3797e953f3b6  super_grub2_disk_hybrid_2.04s1.iso
c72a7d32fea825c970a8d2941e725932ddef717727e3348a700e453ca5313b26  super_grub2_disk_i386_efi_2.04s1.iso
1c45a79c43904a3cc53214fa6ba23a0dc42e4960fa10433922d6a8995bdf43a3  super_grub2_disk_i386_pc_2.04s1.iso
5262b3ba85c1c381288e6ae4a0647a8d2a8bbfd93699b6cedd5dfbe97470e36e  super_grub2_disk_standalone_i386_efi_2.04s1.EFI
9adf5400715f10479d760ba7cc18515f5493341a814507c1e2797cd2394441da  super_grub2_disk_standalone_x86_64_efi_2.04s1.EFI
acb8a944ca3ec64bfad3956df5199efab8613006036196b82d744981241cd300  super_grub2_disk_x86_64_efi_2.04s1.iso
bf7604bd27e74e6346090f1f7b493783230abe91e4795400a5d747180eaa558a  super_grub2_disk_2.04s1.zip

Changelog (since former 2.00s2 stable release)
Changes since 2.02s10 version:
Use grub-2.04 upstream grub2 tag
Changes since 2.02s9 version:
'Enable all native disk drivers' option was improved. It no longer crashes.
Now devices are cached and Super Grub2 Disk is faster
Modify sg2d_directory and sg2d_dev_name variables so that SG2D is more portable
Standalone images are no longer broken and show main menu
Changes since 2.02s8 version:
(Devel) supergrub-release-news helps release team to generate a template for its news. Initial implementation.
(Devel) Added supergrub-release-changes to help with the release team.
(Devel) INSTALL: Improved explanation about what release scripts and file outputs.
Rename '(GRUB2 installation (even if mbr is overwritten))' to: '(GRUB2 installation)'
Use grub-2.02 upstream grub2 tag (Stable version)
Added Chinese (zh-cn) translation
Added Finnish translation (Thanks to tavallinenvirtanen7)
Changes since 2.02s7 version:
Use grub-2.02-rc2 upstream grub2 tag
Default theme starfield is no longer included. This will make images smaller.
(Devel) Make sure normal isos and standalone images have hash files without its full path.
(Devel) File hashes generation has been rewritten to work from the single supergrub-mkcommon generate_filename_hashes function
(Devel) Now MD5SUMS, SHA1SUMS and SHA256SUMS files are generated as part of the official build.
Changes since 2.02s6 version:
Updated grub 2.02 build to tag: 2.02~rc1
Changes since 2.02s5 version:
Added Russian language
Improved Arch Linux initramfs detection
Added i386-efi build support
Added i386-efi to the hybrid iso
Grub itself is translated when a language is selected
Added loopback.cfg file (non officially supported)
(Devel) sgrub.pot updated to latest strings
(Devel) Added grub-build-004-make-check so that we ensure the build works
(Devel) Make sure linguas.sh is built when running 'grub-build-002-clean-and-update'
(Devel) Updated upstream Super Grub2 Disk repo on documentation
(Devel) Move core supergrub menu under menus/sgd
(Devel) Use sg2d_directory as the base super grub2 disk directory variable
(Devel) New supergrub-sourcecode script that creates current git branch source code tar.gz
(Devel) New supergrub-all-zip-file script: Makes sure a zip file of everything is built.
(Devel) supergrub-meta-mkrescue: Build everything into releases directory in order to make source code more clean.
(Devel) New supergrub-official-release script: Build main files, source code and everything zip file from a single script in order to ease official Super Grub
2 Disk releases.
Changes since 2.02s4 version:
Stop trying to chainload devices under UEFI and improve the help people get in the case of a platform mismatch
(Devel) Properly support source based built grub-mkfont binary.
New options were added to chainload directly either /ntldr or /bootmgr thanks to ntldr command. They only work in BIOS mode.
Changes since 2.02s3 version:
Using upstream grub-2.02-beta3 tag as the new base for Super Grub2 Disk's grub.
Major improvement in Windows OS detection (based on BCD) Windows Vista, 7, …
Major improvement in Windows OS detection (based on ntldr) Windows XP, 2000, …
Changes since 2.02s2 beta 1 version:
(Devel) grub-mkstandalone was deleted because we no longer use it
Updated (and added) Copyright notices for 2015
New option: 'Disks and Partitions (Chainload)' adapted from Smx work
Many files were rewritten so that they only loop between devices that actually need to be searched into.
This enhacement will make Super Grub2 Disk faster.
Remove Super Grub2 Disk own devices from search by default. Added an option to be able to enable/disable the Super Grub2 Disk own devices search.
2.02s2 beta 1 changelog:
Updated grub 2.02 build to commit: 8e5bc2f4d3767485e729ed96ea943570d1cb1e45
Updated documentation for building Super Grub2 Disk
Improvement on upstream grub (d29259b134257458a98c1ddc05d2a36c677ded37 – test: do not stop after first file test or closing bracket) will probably make Super Grub2 Disk run faster.
Added new grub build scripts so that Super Grub2 Disk uses its own built versions of grub and not the default system / distro / chroot one.
Ensure that Mac OS X entries are detected ok thanks to Users dir. This is because Grub2 needs to emulate Mac OS X kernel so that it's detected as a proper boot device on Apple computers.
Thanks to upstream grub improvement now Super Grub2 Disk supports booting in EFI mode when booted from a USB device / hard disk. Actually SG2D was announced previously to boot from EFI from a USB device while it only booted from a cdrom.
2.02s1 beta 1 changelog:
Added new option: "Enable all native disk drivers" so that you can try to load: SATA, PATA and USB hard disks (and their partitions) as native disk drives. This is experimental.
Removed no longer needed options: "Enable USB" and "Enable PATA".
"Search floppy" and "Search cdrom" options were moved into "Extra GRUB2 functionality menu". At the same time "Extra Search functionality" menu was removed.
Added new straight-forward option: "Enable GRUB2's RAID and LVM support".
"List devices/partitions" was renamed to "Print devices/partitions".
"Everything" option was renamed to "Detect and show boot methods".
"Everything +" option was removed to avoid confusions.
Other minor improvements in the source code.
Updated translation files. Now most translations are pending.
Updated INSTALL instructions.
Finally you can check all the detailed changes at our GIT commits.
If you want to translate into your language please check TRANSLATION file at source code to learn how to translate into your language.
Thank you – Hall of fame
I want to thank in alphabetical order:
The upstream Grub crew. I'm subscribed to both help-grub and grub-devel and I admire the work you do there.
Necrosporus for his insistence on making Super Grub2 Disk smaller.
The person who writes this article is adrian15 .
And I cannot forget about thanking bTactic, the enterprise where I work at and that hosts our site.
Some thoughts about Super Grub2 Disk development
Super Grub2 Disk development ideas
I think we won't improve Super Grub2 Disk too much. We will try to stick to official Grub2 stable releases. Unless a new feature that it's not included in official Grub2 stable release is needed in order to give additional useful functionalities to Super Grub2 Disk.
I have added some scripts to Super Grub2 Disk build so that writing these pieces of news is more automatic and less prone to errors. Check them out in git repo as you will not find them in 2.02s8 source code.
Old idea: I don't know when but I plan to readapt some scripts from os-prober. That will let us detect more operating systems. Not sure when though. I mean, it's not something that worries me because it does not affect too many final users. But, well, it's something new that I hadn't thought about.
Again, please send us feedback on what you think it's missing on Super Grub2 Disk.
Rescatux development
I want to focus on Rescatux development on the next months so that we have an stable release before the end of 2017. Now I need to finish adding UEFI features (most finished), fix the scripts that generate Rescatux source code (difficult) and write much documentation.
(adrian15 speaking)
Getting help on using Super Grub2 Disk
More information about Super Grub2 Disk