Super Grub2 Disk 2.02s5 stable is here.
Super GRUB2 Disk is a live cd that helps you to boot into most any Operating System (OS) even if you cannot boot into it by normal means.
A new stable release
The former Super Grub2 Disk stable release was 2.00s4 version and released on March 2016 (7 months ago) . New features or changes since previous stable version are:
Make UEFI only options and BIOS/CMS only options clear.
If you boot in UEFI mode you are not able to chainload partitions (Operating systems installed in BIOS mode). Now we make that fact clear by prepending BIOS-BOOT-REQUIRED to these entries. Same thing applies in the reverse case. If you boot in BIOS mode you are not able to load EFI files (Operating systems installed in UEFI mode). Now we make that fact clear by prepending UEFI-BOOT-REQUIRED to these entries. If you insist on booting those entries Super Grub2 Disk refuses to boot them and explains why.
New option: Chainload directly /ntldr or /bootmgr.
(Note this new option will only work in BIOS/CSM mode). This option chainloads Windows' ntldr or Windows' bootmgr. It should be useful if you have somehow corrupted your Windows partition boot record. It might also be useful if you clone Windows into another hard disk and it refuses to boot.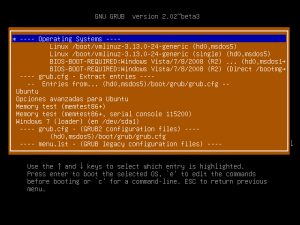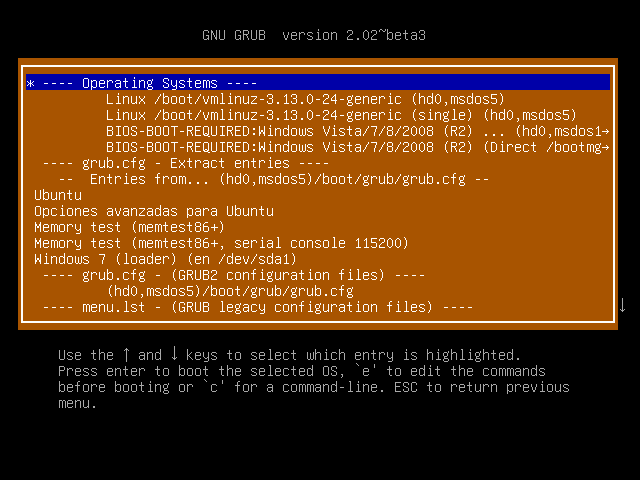 We are going to see which are the complete Super Grub2 Disk features with a demo video, where you can download it, the thank you – hall of fame and some thoughts about the Super Grub2 Disk development.
Please do not forget to read our howtos so that you can have step by step guides (how to make a cdrom or an usb, how to boot from it, etc) on how to use Super Grub2 Disk and, if needed, Rescatux.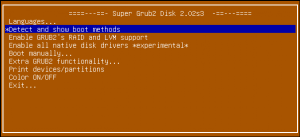 Tour
Here there is a little video tour in order to discover most of Super Grub2 Disk options. The rest of the options you will have to discover them by yourself.
Features
Most of the features here will let you boot into your Operating Systems. The rest of the options will improve the Super Grub2 Disk operating systems autodetecting (enable RAID, LVM, etc.) or will deal with minor aspects of the user interface (Colours, language, etc.).
Change the language UI
Translated into several languages

Spanish / Español
German / Deutsch
French / Français
Italian / Italiano
Malay / Bahasa Melayu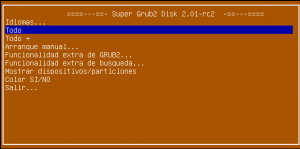 Detect and show boot methods option to detect most Operating Systems


Enable all native disk drivers *experimental* to detect most Operating Systems also in special devices or filesystems
Boot manually

Operating Systems
grub.cfg – (GRUB2 configuration files)
menu.lst – (GRUB legacy configuration files)
core.img – (GRUB2 installation (even if mbr is overwritten))
Disks and Partitions (Chainload)
Bootable ISOs (in /boot-isos or /boot/boot-isos

Extra GRUB2 functionality

Enable GRUB2's LVM support
Enable GRUB2's RAID support
Enable GRUB2's PATA support (to work around BIOS bugs/limitation)
Mount encrypted volumes (LUKS and geli)
Enable serial terminal

Extra Search functionality

Search in floppy ON/OFF
Search in CDROM ON/OFF

List Devices / Partitions
Color ON /OFF
Exit

Halt the computer
Reboot the computer
Supported Operating Systems
Excluding too custom kernels from university students Super Grub2 Disk can autodetect and boot most every Operating System. Some examples are written here so that Google bots can see it and also to make more confident the final user who searchs his own special (according to him) Operating System.
Windows

Windows 10
Windows Vista/7/8/8.1
Windows NT/2000/XP
Windows 98/ME
MS-DOS
FreeDOS

GNU/Linux

Direct Kernel with autodetected initrd

Super Grub2 Disk – Detect any Operating System – Linux kernels detected

vmlinuz-*
linux-*
kernel-genkernel-*

Debian / Ubuntu / Mint
Mageia
Fedora / CentOS / Red Hat Enterprise Linux (RHEL)
openSUSE / SuSE Linux Enterpsise Server (SLES)
Arch
Any many, many, more.
FreeBSD

FreeBSD (single)
FreeBSD (verbose)
FreeBSD (no ACPI)
FreeBSD (safe mode)
FreeBSD (Default boot loader)

EFI files
Mac OS X/Darwin 32bit or 64bit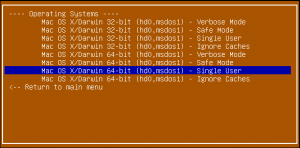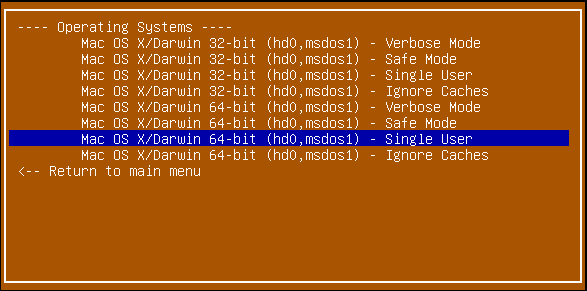 Support for different hardware platforms
Before this release we only had the hybrid version aimed at regular pcs. Now with the upcoming new EFI based machines you have the EFI standalone versions among others. What we don't support is booting when secure boot is enabled.
Most any PC thanks to hybrid version (i386, x86_64, x86_64-efi) (ISO)
EFI x86_64 standalone version (EFI)
Additional Floppy, CD and USB in one download (ISO)
Known bugs
Non English translations are not completed
Enable all native disk drivers *experimental* crashes Virtualbox randomly
Supported Media
Compact Disk – Read Only Memory (CD-ROM) / DVD
Universal Serial Bus (USB) devices
Floppy (1.98s1 version only)
Downloads
---
---
---
---
---
---
Recommended download (Floppy, CD & USB in one) (Valid for i386, x86_64, and x86_64-efi):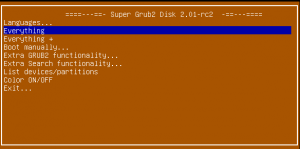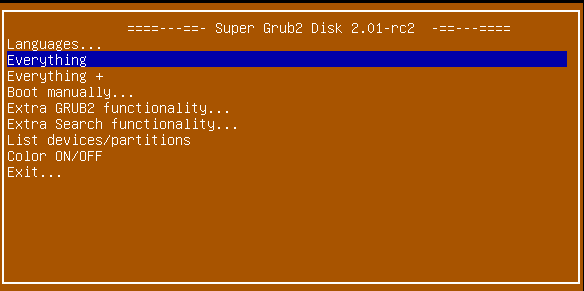 ---
---
---
---
---
---
EFI x86_64 standalone version:
CD & USB in one downloads:
About other downloads. As this is the first time I develop Super Grub2 Disk out of source code (well, probably not the first time, but the first time in ages) I have not been able to build these other downloads: coreboot, i386-efi, i386-pc, ieee1275, x86_64-efi, standalone coreboot, standalone i386-efi, standalone ieee1275. bfree has helped on this matter and with his help we might have those builds in next releases. If you want such builds drop a mail in the mailing list so that we aware of that need.
Source code:
Everything (All binary releases and source code):
Hashes
In order to check the former downloads you can either check the download directory page for this release
or you can check checksums right here:
MD5SUMS
5d8002217b96e1754b5e8a26c4fb02b5  super_grub2_disk_hybrid_2.02s5.iso
d1ef0ec79ef6cfb34457345d1e625d8c  super_grub2_disk_i386_pc_2.02s5.iso
1d488871fb9fcbb02c49dea9145a14c3  super_grub2_disk_standalone_x86_64_efi_2.02s5.EFI
edc135a543e2f2d91ec8fadf3a7a2455  super_grub2_disk_x86_64_efi_2.02s5.iso

SHA1SUMS
896f65b8466b810cc0998b2949950c2b9c3b439f  super_grub2_disk_hybrid_2.02s5.iso
54d7965b3c4c3418ec2bbfbdb2a427d2246aeb6f  super_grub2_disk_i386_pc_2.02s5.iso
35188ee4f3ffa7aaeaa646b008e62cd7dbef6c1c  super_grub2_disk_standalone_x86_64_efi_2.02s5.EFI
3ea81df42e3a71d915b92c4dc35a55a90a7c593d  super_grub2_disk_x86_64_efi_2.02s5.iso

SHA256SUMS
886b2bdedb94a009397a15812980ef12eb1f3f7be7d936433b16d2cb7c624f8d  super_grub2_disk_hybrid_2.02s5.iso
d41da27eae7d9bba3ccb341122cba36fc2bc36afd35661931953934f3a0bb451  super_grub2_disk_i386_pc_2.02s5.iso
86342e9ee4ccc9030a4d5d63d158f924a74841eccd376cc8f202d3c7c7a2c86a  super_grub2_disk_standalone_x86_64_efi_2.02s5.EFI
143bde6b79df2532d230c79772ede7f9473883ac138ad26eb9d67c8c12c79238  super_grub2_disk_x86_64_efi_2.02s5.iso

Changelog (since former 2.00s2 stable release)
Changes since 2.02s4 version:
Stop trying to chainload devices under UEFI and improve the help people get in the case of a platform mismatch
(Devel) Properly support source based built grub-mkfont binary.
New options were added to chainload directly either /ntldr or /bootmgr thanks to ntldr command. They only work in BIOS mode.
Changes since 2.02s3 version:
Using upstream grub-2.02-beta3 tag as the new base for Super Grub2 Disk's grub.
Major improvement in Windows OS detection (based on BCD) Windows Vista, 7, …
Major improvement in Windows OS detection (based on ntldr) Windows XP, 2000, …
Changes since 2.02s2 beta 1 version:
(Devel) grub-mkstandalone was deleted because we no longer use it
Updated (and added) Copyright notices for 2015
New option: 'Disks and Partitions (Chainload)' adapted from Smx work
Many files were rewritten so that they only loop between devices that actually need to be searched into.
This enhacement will make Super Grub2 Disk faster.
Remove Super Grub2 Disk own devices from search by default. Added an option to be able to enable/disable the Super Grub2 Disk own devices search.
2.02s2 beta 1 changelog:
Updated grub 2.02 build to commit: 8e5bc2f4d3767485e729ed96ea943570d1cb1e45
Updated documentation for building Super Grub2 Disk
Improvement on upstream grub (d29259b134257458a98c1ddc05d2a36c677ded37 – test: do not stop after first file test or closing bracket) will probably make Super Grub2 Disk run faster.
Added new grub build scripts so that Super Grub2 Disk uses its own built versions of grub and not the default system / distro / chroot one.
Ensure that Mac OS X entries are detected ok thanks to Users dir. This is because Grub2 needs to emulate Mac OS X kernel so that it's detected as a proper boot device on Apple computers.
Thanks to upstream grub improvement now Super Grub2 Disk supports booting in EFI mode when booted from a USB device / hard disk. Actually SG2D was announced previously to boot from EFI from a USB device while it only booted from a cdrom.
2.02s1 beta 1 changelog:
Added new option: "Enable all native disk drivers" so that you can try to load: SATA, PATA and USB hard disks (and their partitions) as native disk drives. This is experimental.
Removed no longer needed options: "Enable USB" and "Enable PATA".
"Search floppy" and "Search cdrom" options were moved into "Extra GRUB2 functionality menu". At the same time "Extra Search functionality" menu was removed.
Added new straight-forward option: "Enable GRUB2's RAID and LVM support".
"List devices/partitions" was renamed to "Print devices/partitions".
"Everything" option was renamed to "Detect and show boot methods".
"Everything +" option was removed to avoid confusions.
Other minor improvements in the source code.
Updated translation files. Now most translations are pending.
Updated INSTALL instructions.
Finally you can check all the detailed changes at our GIT commits.
If you want to translate into your language please check TRANSLATION file at source code to learn how to translate into your language.
Thank you – Hall of fame
I want to thank in alphabetical order:
bfree (Niall Wash): For his work in adding the code that highlights options that need to be booted in BIOS mode if you boot from UEFI and viceversa. Also for his work on building i386-efi versions of Super Grub2 Disk and other flavours which we will probably use in next beta versions of Super Grub2 Disk.
The person who writes this article is adrian15 and he's amazed he did not use ntldr command before because while doing UEFI tests it does not appear at all.
And I cannot forget about thanking bTactic, the enterprise where I work at and that hosts our site.
Some thoughts about Super Grub2 Disk development
Super Grub2 Disk development ideas
There are two main improvements than can be made to Super Grub2 Disk in the next releases:
Use bfree code so that we can build again files for i386-efi architecture.
Use new upstream Grub release. We still use the upstream 2.02 beta 3 version. According to a recent announce a new Grub will be released on next February.
Old idea: I don't know when but I plan to readapt some scripts from os-prober. That will let us detect more operating systems. Not sure when though. I mean, it's not something that worries me because it does not affect too many final users. But, well, it's something new that I hadn't thought about.
Again, please send us feedback on what you think it's missing on Super Grub2 Disk.
Rescatux development
I want to focus on Rescatux development on the next months so that we have an stable release before the end of 2016. Now I need to add two UEFI features, fix the scripts that generate Rescatux source code (difficult) and write much documentation.
(adrian15 speaking)
Getting help on using Super Grub2 Disk
More information about Super Grub2 Disk