---
---
---
---
---
---
Recommended download (Floppy, CD & USB in one) (Valid for i386, x86_64, and x86_64-efi):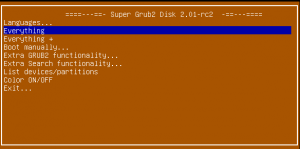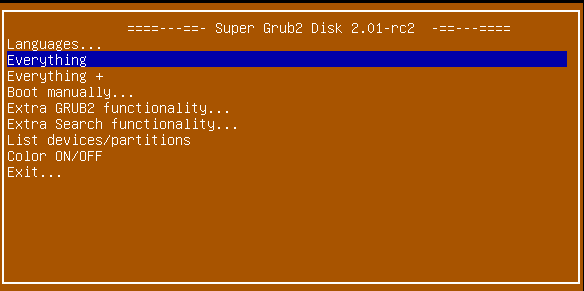 ---
---
---
---
---
---
EFI x86_64 standalone version:
CD & USB in one downloads:
About other downloads. As this is the first time I develop Super Grub2 Disk out of source code (well, probably not the first time, but the first time in ages) I have not been able to build these other downloads: coreboot, i386-efi, i386-pc, ieee1275, x86_64-efi, standalone coreboot, standalone i386-efi, standalone ieee1275. bfree has helped on this matter and with his help we might have those builds in next releases. If you want such builds drop a mail in the mailing list so that we aware of that need.
Source code:
Everything (All binary releases and source code):
Hashes
In order to check the former downloads you can either check the download directory page for this release
or you can check checksums right here:
MD5SUMS
5d8002217b96e1754b5e8a26c4fb02b5  super_grub2_disk_hybrid_2.02s5.iso
d1ef0ec79ef6cfb34457345d1e625d8c  super_grub2_disk_i386_pc_2.02s5.iso
1d488871fb9fcbb02c49dea9145a14c3  super_grub2_disk_standalone_x86_64_efi_2.02s5.EFI
edc135a543e2f2d91ec8fadf3a7a2455  super_grub2_disk_x86_64_efi_2.02s5.iso

SHA1SUMS
896f65b8466b810cc0998b2949950c2b9c3b439f  super_grub2_disk_hybrid_2.02s5.iso
54d7965b3c4c3418ec2bbfbdb2a427d2246aeb6f  super_grub2_disk_i386_pc_2.02s5.iso
35188ee4f3ffa7aaeaa646b008e62cd7dbef6c1c  super_grub2_disk_standalone_x86_64_efi_2.02s5.EFI
3ea81df42e3a71d915b92c4dc35a55a90a7c593d  super_grub2_disk_x86_64_efi_2.02s5.iso

SHA256SUMS
886b2bdedb94a009397a15812980ef12eb1f3f7be7d936433b16d2cb7c624f8d  super_grub2_disk_hybrid_2.02s5.iso
d41da27eae7d9bba3ccb341122cba36fc2bc36afd35661931953934f3a0bb451  super_grub2_disk_i386_pc_2.02s5.iso
86342e9ee4ccc9030a4d5d63d158f924a74841eccd376cc8f202d3c7c7a2c86a  super_grub2_disk_standalone_x86_64_efi_2.02s5.EFI
143bde6b79df2532d230c79772ede7f9473883ac138ad26eb9d67c8c12c79238  super_grub2_disk_x86_64_efi_2.02s5.iso