Rescatux 0.32 beta 1 has been released.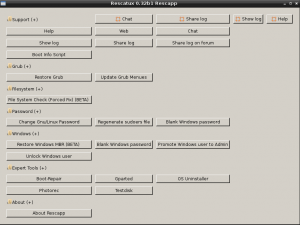 Downloads:
Rescatux 0.32b1 size is about 406 Megabytes.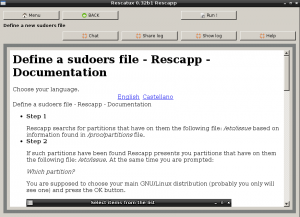 Some thoughts:
Trendynick, from the irc, sent me a nice mockup of how he thought Rescapp should be designed. The final result is 100% as he expected but most of it.
Now we can add new options without bothering about design because we have got an scroll bar for seeing all the options.
The best thing about the new design is that you can see all the available options in one glance.  That makes easier for new comers to discover the truly Rescatux potential. It also makes easier to run options because the Run option screen which shows the html help, as always,  has had some of its buttons rearranged.
As I was not able to use RazorQT from unstable or testing Debian, and as LXQT was even more difficult I had to drop RazorQT and fallback to LXDE (which it's currently based on GTK2). The long waited dream of an almost  QT based rescue cd has been paused. That's the reason why I had to change 0.31 to 0.32.
The other reason for 0.31 to 0.32 change is because I am dropping Super Grub2 Disk integration. I have been thinking about a Rescatux Plus edition that would include it but I'm not very sure of it. I would rather prefer to have only one Rescatux download and then, if you want to, you can build your USB with both Super Grub2 Disk and Rescatux in it.
If you wanted an ISO for the your CDROM with both Super Grub2 Disk and  Rescatux, well, you will have to burn two cds. If you don't agree with this decision please comment below so that we can gather actual feedback on how many people think the Super Grub2 Disk is something useful for them or not.
As you can see one drawback from using isolinux instead Grub2 from Super Grub2 Disk is that the logo and boot entries are the Live ones (Rescatux is based on Debian Live project) instead of Rescatux ones. As this is a beta and I don't want to mess in a long time with Rescatux code I have decided not to worry about that.
Unless you think you are going to have problems with network connections (which it's not actually needed for Rescatux to work, only for asking for support) if you have Rescatux 0.31 beta 5 there's no need for you to download this version.
Of course, you are welcome to download it so that you can give us feedback so that we can improve it.
Fixed bugs:
Networking detection improved (fallback to network-manager-gnome)
Bottom bar does not have a shorcut to a file manager as it's a common practice in modern desktops. Fixed when falling back to LXDE.
Double-clicking on directories on desktop opens Iceweasel (Firefox fork) instead of a file manager. Fixed when falling back to LXDE.
Improvements:
Super Grub2 Disk is no longer included. That makes easier to put the ISO to USB devices thanks to standard multiboot tools which support Debian Live cds.
Rescapp UI has been redesigned

Every option is at hand at the first screen.
Rescapp options can be scrolled. That makes it easier to add new options without bothering on final design.
Run option screen buttons have been rearranged to make it easier to read.

RazorQT has been replaced by LXDE which seems more mature. LXQT will have to wait.
WICD has been replaced by network-manager-gnome. That makes easier to connect to wired and wireless networks.
It is no longer based on Debian Unstable (sid) branch.
Known bugs:
Handling of directories with spaces when detecting Windows SAM files is not optimal
Rescatux logo is not shown at boot
Boot entries are named "Live xxxx" instead of "Rescatux xxxx"
Pending features or bugfixes for 0.32 stable release:
Select keyboard from Grub2 boot or Isolinux boot so that you can type your correct password when resetting Gnu/Linux password. (Or type password without masking it).
New option: Easy Grub fix: Runs both Restore Grub and Update Grub options
New option: Easy Windows Admin that runs: unlock user, promote user to admin and blank admin user password so that you can straight-forward as a windows admin user.
Rewriting of Windows chntpw based options so that source code is not repeated
Use of new 140201 chntpw version
Distro facts:
Feedback welcome:
I've tried myself the distro in my dev environment for the new options, not the old ones and they seem to start ok. Another thing is doing a full test about their complete functionality. Please test the ISO and report back if something that worked on previous stable versions no longer works in this beta version.
Don't forget that you can use:
Help Rescatux project if you cannot wait:
I am very busy right now at work. So you should expect two, three or four months of Rescatux development stalling. These are some of the funny tasks that anyone can easily contribute to:
Making a youtube video for the new options.
Make sure documentation for the new options is right.
Translate the documentation of new options to Spanish.
Make snapshots for new options documentation so that they don't lack images.
If you want to help please contact us here:
Thank you and happy download!