Alternatively you can also obtain Super Grub2 Disk 2.00 beta 6 included in Rescatux 0.31 beta 4.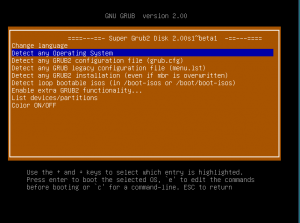 This is the changelog:
FreeBSD boot wasn't working ok. Fixed.
Added default boot loader entries for FreeBSD at OS detection script
If you want to translate into your language please check TRANSLATION file at source code to learn how to translate into your language.
This is a beta release so please comment any issue you find at the forum.
Development miscelanea:
Jordan Uggla has said he would have some spare time to work in SG2D. Let's hope it's true.
Thanks to nox- from irc for the FreeBSD testing and fixing.
Thanks to Niall Walsh for his current work on trying to improve the OS autodetect feature.
(adrian15 speaking)
As a side note the current HEAD at git says that SG2D version is 2.00s1-beta5 while it's actually 2.00s1-beta6. Next beta should be the 7th one.