Update 1st April 2015 : You might be wondering why in 2015 or a later year you are suffering this same joke even without using Super Grub Disk 0.9800 version. The reason is that latest Super Grub2 Disk versions integrate this special functionality but it only triggers on April 1st days unlike the 0.9800 version joke which was triggered everyday.
He, he he! XD
If you have tried Super Grub Disk 0.9800 yesterday you will have noticed that were unable to write NO when asked if you wanted to delete your partitions and folders.
You might have been asked to delete your WINDOWS folder: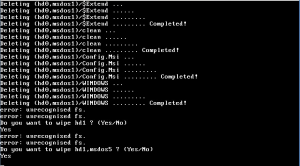 Or you might have been asked to delete some of your Gnu/Linux files: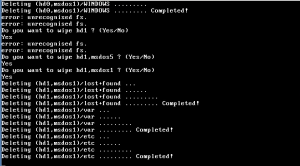 Just to find that MFSTH4CK3R wanted to delete your stupid LAINUX TOY OS.
But finally it was just an April Fools Day joke: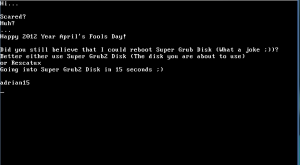 Some more facts about the joke:
This is not Super Grub Disk (based on Grub1) but Super Grub2 Disk.
The script was designed to find no more than 23 folders or so… that meant that you would be only suffering for about 40 seconds.
40 seconds time was choosen so that people didn't have time to press ctrl+alt+del
40 seconds time was choosen so that could use the disk as SG2D anyways (Having to wait till it loops into all your hard disks and filesystems is not funny the third time you see it).
I sent the release to Freecode (freshmeat) March 31 but instead of being published on April 1 it get published in March 31.
I also sent the piece of news to Barrapunto (the Spanish slashdot).
I don't have time to resurrect SGD and it makes no sense with Grub2 having scripting and so on.
There happens to be a patch for Grub1 to make it support btrfs.
You can chainload Grub2 from Grub1. (/boot/grub/core.img)
Restore Grub2 from Grub1 with an special dd command? Might be. But not sure if it's even possible.
And that,s it. Now I have to decide if I remove the SGD 0.9800 release of if I left it there so that I can drive people to Super Grub2 Disk and Rescatux.