---
---
---
---
---
---
Recommended download (Floppy, CD & USB in one) (Valid for i386, x86_64, and x86_64-efi):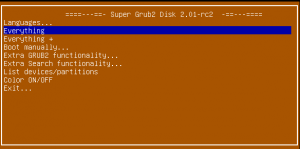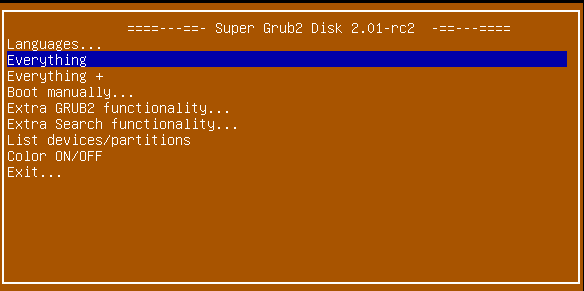 ---
---
---
---
---
---
EFI x86_64 standalone version:
CD & USB in one downloads:
About other downloads. As this is the first time I develop Super Grub2 Disk out of source code (well, probably not the first time, but the first time in ages) I have not been able to build these other downloads: coreboot, i386-efi, i386-pc, ieee1275, x86_64-efi, standalone coreboot, standalone i386-efi, standalone ieee1275. Help is welcome on this subject.
Source code:
Everything (All binary releases and source code):
Hashes
In order to check the former downloads you can either download:
or you can check their contents right here.
MD5SUMS
e7515b7d4e9ea90f28b7f5a534906b85  super_grub2_disk_hybrid_2.02s3.iso
1538893f58fa9dbd3a1fd5a3789f7cb5  super_grub2_disk_i386_pc_2.02s3.iso
38260bfd2b93586a25b2db1a27072661  super_grub2_disk_standalone_x86_64_efi_2.02s3.EFI
247f2219579d1826cf6fbdbee37d1296  super_grub2_disk_x86_64_efi_2.02s3.iso

SHA1SUMS
e1f0da49d4e600383647875f773f6182a5e3f3c4  super_grub2_disk_hybrid_2.02s3.iso
c4087937567d28f46f18c100ee047057d3acbac4  super_grub2_disk_i386_pc_2.02s3.iso
7af5cbbf947caa975a406b70c43fad803ba9c10d  super_grub2_disk_standalone_x86_64_efi_2.02s3.EFI
1e49427f95dcff3dc0318f20bbe934b4a5eb3493  super_grub2_disk_x86_64_efi_2.02s3.iso

SHA256SUMS
74def37a1208e4e2f54bbe4bd1b66337b6f026a6c553a3b8e7db8e2206fd59ed  super_grub2_disk_hybrid_2.02s3.iso
ce46670541ed9506832d1bf255a454273ac493beee68e88f823687c8ae3cc340  super_grub2_disk_i386_pc_2.02s3.iso
c4589c1d12fdf1260d025d11908f985a4e2b5c6b63e61d64ef0fc36e27613b30  super_grub2_disk_standalone_x86_64_efi_2.02s3.EFI
3ba7724f871f83d6996b74a529c79e6b7c237d7951eb642fd5fb7740f5d0464c  super_grub2_disk_x86_64_efi_2.02s3.iso