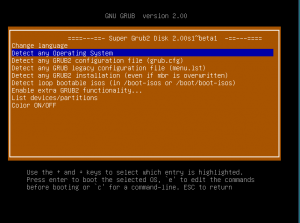 This is the changelog:
(Devel) searchindevice function was improved by using brackets and making code more clear
Make sure to remove console output when using gfxterm output. This should solve some strange problems when selecting various menus options from SG2D.
Loopback detection now also detects: /bootisos, /boot/booisos, /BOOTISOS and /BOOTISOS directories so that FAT file name compatibility is assured
(Devel) Changed ~ to – in version filename so that filenames can be uploaded ok to forges
If you want to translate into your language please check TRANSLATION file at source code to learn how to translate into your language.
This is a beta release so please comment any issue you find at the forum.
Thanks to the #grub guys we have managed to improve the code on searching device to make it clearer and some Grub2 code will be eventually fixed so that complex tests are done ok (precedence of -a over -o wasn't ok it seems). And we also managed thanks to them to avoid two graphical modes at the same time. This way you won't see strange phenomena when highlighting options.
Actually I haven't been able to test that last fix in an actual machine where I know it happens, but this is a BETA, you're supposed to test it as an user too ;). So feedback is welcome as always.
(adrian15 speaking)