After so much long I am pleased to announce: Super Grub2 Disk 1.99 beta 1.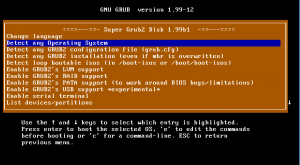 This is the changelog:
Added support for Fedora's grub.cfg (/boot/grub2 and /grub2 path)
Lua scripts were rewritten to cfg scripts so that they are more grub friendly
Colour was added which can be on or off
Super Grub2 Disk and its version is shown at main menu
Added basic translation system
Super Grub2 Disk was translated to Spanish
Based on Debian's Grub 1.99
We need translators! Please check TRANSLATION file at source code to learn how to translate into your language.
Translations no longer needed:
This is a beta release so please comment any issue you find at the forum.