This is an exciting release. For the first time we are not relying on Debian's grub packages but on our own grub2 build system. Yes, just like the distributions do when they build their own packages.
This improvement let us to track grub git so that we can use its latest features. Sometimes you choose to rely on an stable grub release but sometimes some features are needed  as right now.
One of these features is being able of booting from EFI system from a hard disk or usb in EFI mode. (That feature was wrongly announced in the past releases of Super Grub2 Disk as being functional). And, what it's better than that… The same disk also works for BIOS based boot and also for CDROM boot.
Let me repeat it slowly. With Super Grub2 Disk hybrid iso you will be able to boot from:
EFI mode. Cdrom or DVD media.
EFI mode. USB or hard disk media.
BIOS mode. Cdrom or DVD media.
BIOS mode. USB or hard disk media.
Another fix from upstream grub enables us to avoid showing Super Grub2 Disk device itself as a (wrongly detected) Mac OS X installation. This error arised on last beta and we discovered that grub itself did not work ok when testing two expressions if the first one was detecting if a file existed or not. You can check this grub commit if you are interested.
That same fix might make Super Grub2 Disk run faster because now our tests will work as expected. I haven't tested Super Grub2 Disk speed myself so if you have feedback on it please report here on the comments.
Dedicated to forum.ubuntu-fr.org and malbo
I want to dedicate this release to the Communauté francophone d'utilisateurs d'Ubuntu forum people and specially to malbo who managed to make Super Grub2 Disk to boot from a USB thanks to the standalone version. Now the Super Grub2 Disk hybrid version should boot in either BIOS or EFI mode when burned to a cdrom and also when dd to a hard disk. No need to build your own usb version for that.
I know that around that community there are many great people that did find many ways of dealing with EFI specifics (Hopefully I can reuse some of these next year for Rescatux) but I chose malbo because he is great at writing howtos or step-by-step instructions so that other people can debug why their systems do not boot and hopefully they can finally boot into them.
Unfortunately Microsoft's approved secure boot is not in my Super Grub2 Disk TODO list because of ethical reasons. That would even help even more, till then, make sure you disable secure boot when booting from Super Grub2 Disk in an EFI machine.
Changelog
Updated grub 2.02 build to commit: 8e5bc2f4d3767485e729ed96ea943570d1cb1e45
Updated documentation for building Super Grub2 Disk
Improvement on upstream grub (d29259b134257458a98c1ddc05d2a36c677ded37 – test: do not stop after first file test or closing bracket) will probably make Super Grub2 Disk run faster.
Added new grub build scripts so that Super Grub2 Disk uses its own built versions of grub and not the default system / distro / chroot one.
Ensure that Mac OS X entries are detected ok thanks to Users dir. This is because Grub2 needs to emulate Mac OS X kernel so that it's detected as a proper boot device on Apple computers.
Thanks to upstream grub improvement now Super Grub2 Disk supports booting in EFI mode when booted from a USB device / hard disk. Actually SG2D was announced previously to boot from EFI from a USB device while it only booted from a cdrom. Use dd to put Super Grub2 Disk in your usb device if you want to make use of it.
---
---
---
---
---
---
Recommended download (Valid for i386, x86_64, and x86_64-efi):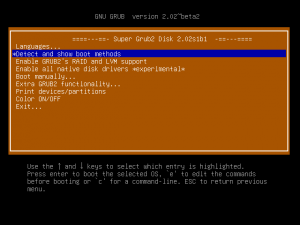 ---
---
---
---
---
---
EFI x86_64 standalone version:
Floppy, CD & USB in one downloads:
About other downloads
As we no longer rely on Debian grub packages some of the releases have been removed (till someone teachs me how to rebuild them). The downloads you will not be finding are: coreboot, i386-efi, ieee1275, standalone i386-efi and standalone ieee1275. Help is welcome on this subject and also feedback if someone was actually using them or not. Else I might remove them completely.
How to test
Try to boot your desired operating system with this version. If it does not boot try the 2.00s2 stable version. If you can boot with the stable version but not with this beta version please report it to the bug tracker.
This is a Super Grub2 Disk tutorial that it's not based in this beta version but that can help you understand what you can do with Super Grub2 Disk.
Development miscelanea:
This release was built in a Debian jessie system but using upstream 2.02 grub version (commit 8e5bc2f4d3767485e729ed96ea943570d1cb1e45).
Please check the new DEVELOPMENT file if you plan to build Super Grub2 Disk on your own very often.
If you want to translate into your language please check TRANSLATION file at source code to learn how to translate into your language.
Note: 2.02s2-beta1 means:
2.02: Upstream Grub 2.02 version
s2 : Super Grub2 Disk scripts version (inside this Upstream Grub version)
beta1: Beta 1